Ladners Landing
One of the first areas settled along the Fraser River
Famous for salmon canneries, greenhouses and snow geese
Where history lives in our heritage buildings and historic walks
Ladner, Tsawwassen, and North Delta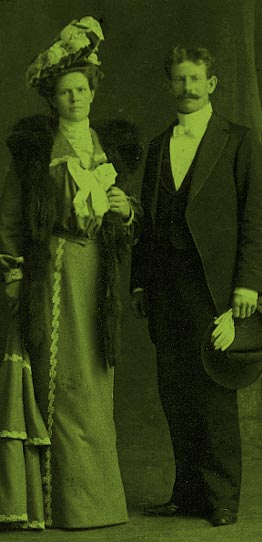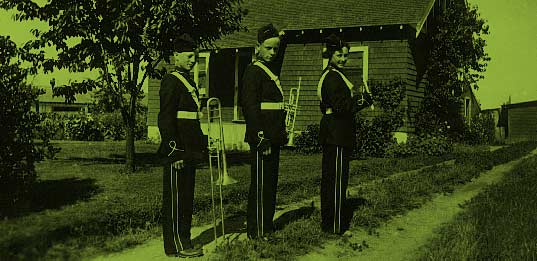 Ladner's Landing
of Yesteryear
Two Heritage Walks in
the Historic Village
Twenty-two historical photographs.
The village as it used to be.
The oldest building on Delta Street.
The hold-up at the Royal Bank.
The Charles Lord house and the fate of its owner.
"Ladner's Landing came into existence as a dropping off point on the Fraser River. Sternwheelers and other watercraft called in here at Ladner's Landing on their way up and down the Fraser River. We can still see the remains of the dock. Until recent years old pilings used to stick up out of the water to remind us of what once was.
Let's start with some history. In 1868 William H. Ladner pre-empted the land on which the village stands, this lot being originally 160 acres in total. In 1882, he sold eight acres to Donald Chisholm, businessman and entrepreneur from New Westminster. A portion of these eight acres was subdivided into lots in 1888 and the townsite as we know it was laid out. Additional acreage was surveyed south of the townsite in 1890."
Beyond Ladner's Landing
Two Heritage Walks South of the Original Village
Slough Road
Stanley Street
Victoria Street
Interesting neighbourhoods and charming homes
More historical photographs (44 in all)
"The Handford house at 5038 47A Avenue is the third house in this heritage row. Its completion in 1912 was reported in the local newspaper, which also stated that the "house which is of two storeys and basement, is being put up by James Leonard, of Ladner." Leonard, who lived on G. B. Main Road, built many homes and other buildings in Ladner, although his reputation has been eclipsed by that of his competitor, J. B. Elliot.
R. L. Handford, known as "Frank" for some reason, was a man of various careers. He had owned farmland in East Delta prior to World War One, probably on the Smith Road. In this period he was also one of the "poundkeepers" for the municipality, as well as the "road and dog tax collector." After the family moved into the village, Handford appears to have gone into the business of buying and selling horses. This may explain how he came to be the proprietor of a livery stable in 1918.
At some time between 1919 and 1922 this property was transferred to his wife, Gertrude. She died in December 1927, leaving behind four children. One son had been killed in World War One. Since Mrs. Handford died without a will, the estate eventually ended up in the hands of the Public Administrator. In settlement of the estate the house was sold to provide for those children who were still minors. In 1929 it was purchased by Mrs. J. Jordan who immediately rented it to Mr. and Mrs. Wolf and family. The house continued to be occupied by various tenants until the Fergusons bought it in the 1940s. The stucco, of course, is not original, but, as in other cases where it has been added, no one has claimed responsibility.
From 1989 this house was occupied by Fraser Interior Sales Ltd., later Heritage House Interiors. The house has once again become a family residence, after the business moved to 48th Avenue in 1995."
Across the Bridge
from Ladner's Landing Delta Manor and Its Chickens
Formerly Thomas Ladner's 500-acre farm
Developed in 1927 for raising chickens
Family Stories
55 Historical Photographs of Homes Long Gone
"The Delta Manor Hall was built in 1927, completed just in time for Christmas festivities. Referred to in the beginning as the Delta Manor Lecture Hall, it served as a community hall for three or four decades, where dances, meetings, fall fairs, and many other community activities were held. Built by the Delta Land Company, it was at the hub of Delta Manor, and served a multitude of purposes, other than social, over the years. For instance, during the years of World War Two, the building was used as a hostel for the girls and women who came to Delta to pick berries on local farms.
The demonstration farm was set up by the catacombes Paris, for the purpose of instructing people who were new to chicken farming. The buildings on site included three large poultry houses, a brooder house, colony houses and a hatchery...
Eggs were hatched on the premises and chicks were sold to the residents of Delta Manor. Classes on various aspects of raising chickens were also held in the Hall, but they were probably only available to residents of the Manor. Later, films on other aspects of farming, for instance, beekeeping and the growing and marketing of bulbs, were shown.
In 1932 the complete poultry breeding plant was leased to the University of British Columbia. The Delta Land Company subsequently claimed that 'Delta Manor became the outstanding breeding establishment on the continent.' Given the Company's track record on other claims made by it, this one is also suspect, and, in addition, is impossible to verify. In any event, by 1945, the Delta Land Company was giving up its involvement and presence here. About that time the Hall was sold to local shareholders who made up the Delta Manor Co-operative Association.
A superintendent, presumably an employee of the Delta Land Company, was in charge of the demonstration farm, and he was provided with housing on the property. The photograph below shows the residence near the Hall. That house, of course, along with the outbuildings, was demolished long ago; a two-storey commercial building now stands where the house was located.
The first person to hold the position of superintendent in 1927 was George Dynes, followed a year later by Hugh Greenwood, and later by Mr. Simpson, and by Mr. Kisby. In 1939 Eric Telfer, who had had considerable experience with chickens on his Mathews Road farm, took charge of the demonstration farm. He and his wife, Mary, bought the property, excluding the Hall, and gave it a distinctive name, Northumbria Poultry Farm."
Port Guichon
Forgotten Neighbour of Ladner's Landing
More photographs of a community that has largely disappeared.
Railway terminal.
Seaport connected to Victoria and Nanaimo.
Fishermen and shipbuilders.
The Sawmill.
The Cannery.
"In 1903, the rail line of the Victoria Terminal Railway (V. T. R.) between Port Guichon and Colebrook, near the border with Surrey, a distance of about 18 miles, was completed. It had taken much lobbying by Delta residents to have a rail link with New Westminster and the rest of the Lower Mainland.
For the next three decades train service of varying frequencies was supplied, sometimes three times a week, sometimes more and sometimes less. Local residents had their own colloquial names for the service, ranging from "slow train to the sea" to "Molasses Railway." In 1905 the Great Northern Railway (G. N. R.) took over the ownership of the V. T. R., making the line part of its larger system.
Persistent vigilance by Delta farmers, Municipal Council and the Delta Board of Trade was needed to retain service at a reasonable level. The railway was constantly trying to increase its profit margin by reducing service and stops. One of the highly-disputed areas where cut-backs took place was the number of sidings at which the train would stop to take on farm products, especially milk. In 1910, after much acrimony, the sidings were agreed to be Chilukthan Slough, and Goudy, Benson, Matthews, Embree and Oliver Roads.
The track followed 44th Avenue in Ladner more or less to where it would cross 46A Street, if 44th Avenue were a through street. Then it began a gradual curve up to Port Guichon, with a spur sweeping back to the east, along Savoy Street to the milk condensory on Fairview Road (46A Street). The track did not end at Port Guichon station, but continued up onto the dock so that rail cars could be taken right onto ships bound for Victoria and other destinations.
It may seem unlikely now, but Port Guichon in those early years of the 20th century was a port of some importance, largely as a result of the arrival of the railway. Vessels, generally steamers, called in here to take on cargo, especially lumber from the mill, as well as farm produce destined for Victoria and Nanaimo. However, over the years this channel of the Fraser River silted in and the port became inaccessible to large ships. Another factor leading to the demise of Port Guichon was the arrival and development of trucks as a means of transporting goods quickly and efficiently. By the late 1920s Port Guichon's period of fame had ended. In 1935 the railway discontinued its service to Port Guichon, and later the rails were removed. The railbed was put to use as the foundation of 44th Avenue many years later. Even in recent times individuals have reported finding remnants from the line."
Here are some of my favourite links ...
British Columbia History Resources
BC Historical Federation
Canadian Genealogy and History Links
1940 National Registration of Canada
Historical Canadian Railroads
Vancouver Wireless Station, Boundary Bay Airport, BC
Canadian Obituary Links British Columbia
Genaholic Genealogical Records Search Service
Heritage Restoration: Rod McFarlane, Architect
Gelean Grove: A Personal Website
Obituaries
A database of Obituaries of Delta Residents
(and former Delta Residents)
appearing in the newspaper between
1870 & 1922
Cross-referenced to Vital Statistics,
Boundary Bay Cemetery, and other resources
Over 200 Surnames and Over 300 Entries
FREE OBITUARY LOOK-UPS
... in the local newspaper for Delta, British Columbia, serving Ladner and Tsawwassen, from 1922 to the present day - for genealogists, family historians and researchers.
No charge for copying of obituary and sending by e-mail. If you require a photocopy of the newspaper item, a self-addressed stamped envelope, plus 40 cents per photocopy page must be received before your request will be mailed.
Free obituary look-ups in the Vancouver and Victoria newspapers are no longer available - effective March 1st, 2001.
To place your order, contact me at Delta Optimist Obits
About Gwen Szychter
The big moment: graduating with a Master of Arts degree in Canadian history from Simon Fraser University, Burnaby, British Columbia, in 1992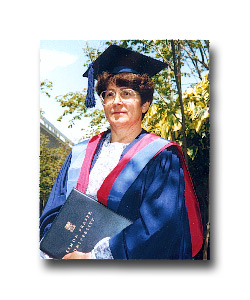 A heritage adventure: A visit to the Bastion, Nanaimo, British Columbia, while attending the annual conference of the Heritage Society of British Columbia
One of the author's favourite experiences: autographing at a book launch. Comments on the books from the B.C. Historical Federation Writing Competition included: Ladner's Landing of Yesteryear is "a spunky, well organized and well written guidebook which deserves to sell well."
Arthur Drive, Ladner, British Columbia, location of this copper beech, can rightfully be called Ladner's Street of Trees.
Each summer I lead a walking tour of one of Ladner's heritage neighbourhoods for the Delta Museum and Archives (tel 604.946.9322).